Scholarships
Fulbright Scholarship Program
The Fulbright Program is the flagship international educational exchange program sponsored by the U.S. government and is designed to "increase mutual understanding between the people of the United States and people of other countries." With this goal as a starting point, the Fulbright Program has provided almost 300,000 participants--chosen for their academic merit and leadership potential--with the opportunity to study, teach, and conduct research, exchange ideas and contribute to finding solutions to shared international concerns.

The Fulbright Program was established in 1946 under legislation introduced by then-Senator J. William Fulbright of Arkansas. The Fulbright Program is sponsored by the U.S. Department of State's Bureau of Educational and Cultural Affairs.

Approximately 294,000 "Fulbrighters," 111,000 from the United States and 183,000 from other countries, have participated in the program since its inception more than 60 years ago. The Fulbright Program awards approximately 7,500 new grants annually.

Currently, the Fulbright Program operates in more than 155 countries worldwide.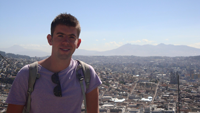 Senior Dave Tykvart was awarded the Fulbright scholarship to study in the Czech Republic next year. He will be teaching English as well.