Beta in Sports
Swimming: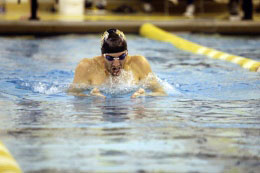 Beta finishes strong in the Aqua Bell Meet on November 13, 2013. Brothers Jim Easterhouse '15, Casey Hooker '15, Alex Grissom '16, Alex Alfonso '15, Matt Gleason '14, Blake Lehmann '16, Jack Burgeson '14, and Matt Haeske '14 made us proud!

Please read the article written by brother Jim Easterhouse.
---
Cross Country:
Tigers Finish 13th at NCAA Regional
November 16, 2013

Grand Rapids, Mich. — Paced by Noah Gatwood's 42nd-place finish, DePauw's men totaled 409 points and finished 13th among 35 teams at the NCAA division III Great Lakes Regional. Wabash won with 60 points and Calvin was second with 79.

Gatwood covered the 8,000 meters in 26:16.5, while Stu Newstat was 56th in 26:23.7, and Dillon Raidt 90th in 27:03.4. Will Bond followed in 27:17.7, with Paul Watts next at 27:19.4. Michael Bennett finished in 27:26.4, with Brian Myers rounding out the Tigers' lineup in 27:39.2. Albion's Paul Lewis won in 25:10.0.

Dillon Raidt '14, Will Bond '15, Stu Newstat '14, and Brian Myers '16 are all the Betas who ran
---
Beta Makes Us Proud in Cross Country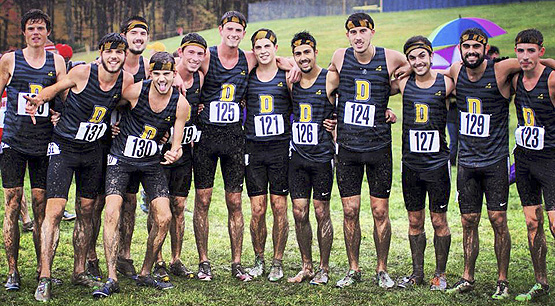 The far left is Will Bond '15, the 3rd from the left (back) is Jim Easterhouse '15, #125 is Brian Mincks '16, #126 is Brian Myers '16, #127 is Stu Newstat '14, and #129 is Dillon Raidt '14.
Stu Newstat '14, Will Bond '15, Brian Mincks '16, Brian Myers '16, and Dillon Raidt '14 ran in the meet.
Newstat LeadsTigers to Fifth at NCAC Championships
November 2, 2013

Meadville, Pa. — Led by Stu Newstat's 19th-place finish, DePauw totaled 148 points and finished fifth at the North Coast Athletic Conference Cross Country Championships. Wabash won with 30 points.

Newstat finished in 28:08.3 to earn honorable mention all-conference. Noah Gatwood followed in 24th place in 28:20.7, while Paul Watts was 32nd in 28:38.6 and Dillon Raidt in 33rd in 28:38.8.

Michael Bennett finished in 51st in 29:10.1 with Will Bond in 54th in 29:15.4 and Brad Wise in 56th in 29:17.4.

DePauw returns to action on Saturday, November 16, at the NCAA Great Lakes regional meet in Grand Rapids, Mich.
---
The Aquatic Tigers Do It Again!
The DePauw Men's Swim Team won its 25th straight duel meet November 2, 2013, against Washington University in St. Louis, winning 155-136.

Junior Casey Hooker '15 placed first in all three of his individual events (1000 Freestyle, 200 Butterfly, 500 Freestyle), earning him another NCAC Swimmer of the Week award. Sophomore Alex Grissom '16 and Junior Matt Haeske '14 placed first and third in the 200 Freestyle. Sophomore Blake Lehmann '16 and Junior Jack Burgeson '14 placed first and second in the 50 Freestyle. Junior Alex Alfonso '15 placed first in the 200 Individual Medley, and an all-Beta relay of Hooker, Burgeson, Grissom, and Blehmann ended the meet with a victory in the 400 Freestyle Relay.

The (Aquatic) Tigers have their next meet on Friday, November 8 at Wittenberg.
—written by events coordinator Stephen McMurtry '16
---
Soccer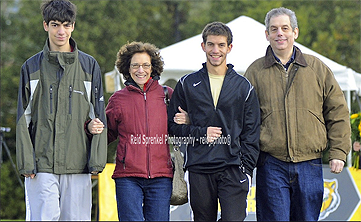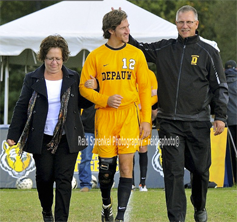 Our senior soccer night this year was split into two different games because of fall break. Two Saturdays ago was the family walkout out (see pictures above). We had a family banquet afterword, which was cool.
Wednesday, October 30, 2013, was the other half of our senior night, where they listed our accomplishments as we walked out on the field
Fun fact about our senior class, according to our coach: as or right now "These nine men have a combined 57-9-9 overall record, tying them for the most wins of any senior class in the 49-year history of our program."
Submitted by Mark Weiss
---
Indiana Intercolegiate Invite, Purdue University; October 26, 2013
The DePauw Men's Swim Team attended its first swim meet of the season this past weekend: the Indiana Intercollegiate Invite, hosted by Purdue University.
Beta swimmers placed highly in many events. To kick off the meet, a relay consisting of sophomore Blake Lehmann, senior Matt Gleason, junior Alex Alfonso, and sophomore Daniel McGuinness, posted the meet's second-fastest time in the 200-yard medley relay, going a 1:35.87. Junior Casey Hooker placed second in the men's 200-yard freestyle with a time of 1:42.51; sophomore Alex Grissom and senior Matt Haeske also posted times under 1:50, finishing fifth and sixteenth. In the 50-yard freestyle, Blake Lehmann broke the 22-second barrier, going a 21.41 and placing sixth overall; Blake's classmate3 Daniel McGuinness also scored with a 22.04. Before the first break, Alex Alfonso and sophomore Stephen McMurtry placed in the 200-yard individual medley, posting times of 1:59.82 and 2:01.58, respectively, and earning seventh and fourteenth.
In the second part of the meet, Matt Gleason earned the twelfth spot in the 100-yard butterfly, with a time of 52.63 Three Betas placed in the top eight of the 100-yard freestyle: Blake Lehmann, Daniel McGuinness, and senior Jack Burgeson. A few events later, Betas again placed in the top eight. Casey Hooker, Stephen McMurtry, and Alex Grissom placed third, fifth, and seventh, with times all below 4:55.00.
For the final stretch of the meet, five Betas made a strong showing in the 100-yard breastroke. Sophomore Luke Hessburg, Matt Gleason, senior Joe Hessburg, sophomore Noam Rose, and junior Cam Johnson all posted quick times, hovering just above the 1:00.00 line. To finish the meet, another all-Beta relay placed second; Blake Lehmann, Alex Alfonso, Daniel McGuinness, and Jack Burgeson collaborated to swim a 1:25.56.
It was an excellent meet for the DePauw Men's Swim Team as a whole, and the team's Beta members did especially well. The team has a meet at Washington University in St. Louis on Saturday, November 2, a duel meet against Wittenberg on November 8, and a home meet against Wabash College on November 13. Congratulations (Aquatic) Tigers!
---
Swimming & Diving
Beta had a number of active brothers and potential new members competing at the Division III Nationals for swimming and diving March 20–23 in Shenandoah, Texas. The results for the competition are below. If you have any questions, please email Jim Easterhouse at jeasterhouse_2015@depauw.edu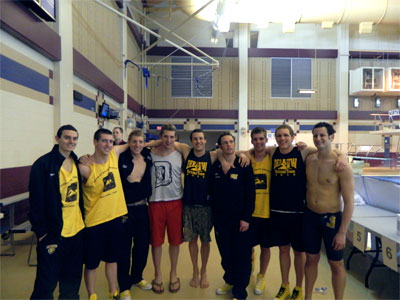 500 Free: Hooker (10 New School Record)
200 IM: Alfonso (16 New School Record)
200 Free Relay 12: Lehmann, Alfonso, McGuiness, and Jack
400 Medley Relay: Alfonso, Kukurugya, Hooker, and Lehmann (10 New School Record)
100 Fly: Hooker (10 New School Record)
200 Fly: Hooker (10 New School Record)
100 BR: Kukurugya (9 New School Record)
800 Free Relay: Hooker, Spichiger, Grissom, and Haeske (7 New School Record)
400 Free Relay: Hooker, Alfonso, McGuiness, and Lehmann (5 New School Record)
---
Team Schedule Links
Track & Field
Dillon Raidt '14, Stu Newstat '14, Jim Easterhouse '15, Brian Austin '15, Will Bond '15, Brian Myers '16, Ben Gorman '16, Elliott Browning '16, and Brian Mincks '16

Tennis
Eric Bruynseels '15, Joe Collins '14, and Kyle Coronel '14

Lacrosse
Nick Lucca '13 and Andrew Bartucci '16

Golf
Eric Tandy '15