Beta Bios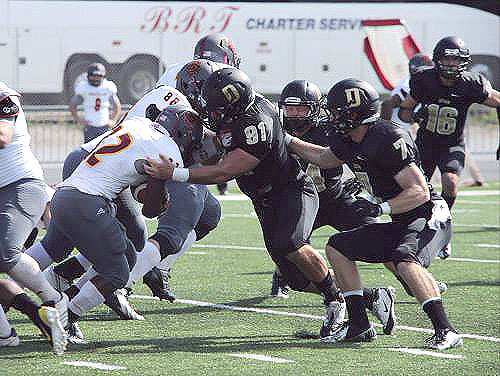 Adam Folta '16
Urban Studies; West Lafeyette, Indiana
With the Monon Bell game coming up this Saturday, Beta Bios this week features sophomore Adam Folta '16. He is an Urban Studies major from West Lafeyette, Indiana. He is an entrepreneur, with his own original pizza-delivery company on campus called "PizzaDude." He is a member of Beta's Brotherhood committee and is also an Environmental Fellow. On the gridiron, he's #7.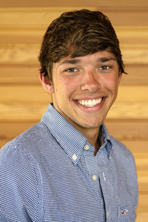 Zach Crenshaw, '14
Communication major; Zionsville, Indiana

On the Ethics of Paying College Athletes:

"I have always been interested in sports and the ethical debates that surround them. In the wake of Jim Tressel's resignation as the Ohio State football coach, I found myself wondering: 'Why shouldn't college athletes be allowed to accept endorsements and sign autographs for money?'

"Many of these college athletes come from low-income homes, and it is unrealistic for the rules to require that they deny an agent's offer of a free car or a couple thousand dollars. Why should players have to reject endorsement offers from companies who seek to sponsor them or put them in a commercial? The NCAA allows universities to cash in on these players' abilities by selling their jerseys and season tickets, but does not allow players to make any money themselves. It is no secret that players continue to fly under the radar and accept money from agents and sign autographs in exchange for tattoos or free meals.

"By criminalizing these actions, the NCAA is pushing these athletes to the pros even faster and turning poor college students into dishonest citizens. It is issues such as these that make me excited to be a Prindle intern and to have the opportunity to discuss pertinent and challenging issues with peers and professionals on a regular basis."

Zach Crenshaw is a senior and Media Fellow, hoping to get into broadcast journalism upon graduating. On campus, he is a member of Beta Theta Pi, leads a bible study, and stays involved with D3TV and WGRE. He has been a Prindle intern for three years now, has loved his time at DePauw, and is convinced there isn't a thing Bob Steele doesn't know.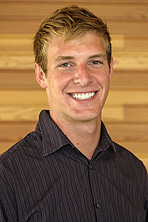 Tyler Davies, '14
Studio Art and English Writing majors; Greencastle, Indiana

On the Ethics of Service Projects:

"DePauw offers a fantastic range of opportunities and projects to take part in; winter-term and semester-abroad options give students the chance to explore their interests on and off campus, as well as to participate or volunteer in a large array of service projects. The intentions of a volunteer are almost always pure; however, this does not guarantee that any particular program or the participating volunteers are virtuous. I believe there are many worthy and respectable causes to engage with; nevertheless, there are those that are inadequately organized, which exploit the host's as well as the participant's anticipations of these projects. Are the resourses utilized on these projects being used most efficiently? Are the expenses contributing to these projects worthwhile? Are there ways in which we can resourcefully redistribute these expenses more responsibly? These are important issues that are often overlooked and should be addressed. It is vital to consider these issues in order to thoughtfully promote a cause or movement designed to aid others and to make the most out of their altruistic contributions."

Tyler Davies is a senior double major in Studio Art and English Writing. He is a member of Beta Theta Pi fraternity and also works alongside the director of the Low Road Art Gallery in downtown Greencastle.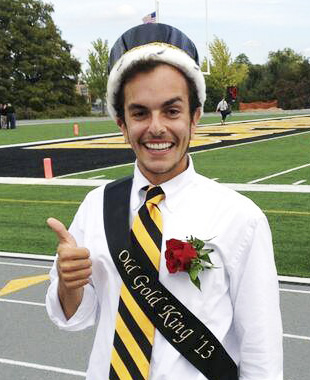 Stu Newstat '14
This Beta Bios highlights senior Stu Newstat. Stu is a Communication major from Western Springs, Illinois. Co-Captain of the Cross Country team, Newstat was voted as Old Gold King on Saturday. "It was a great honor to win and be a part of a great DePauw tradition. I am honored to represent Beta."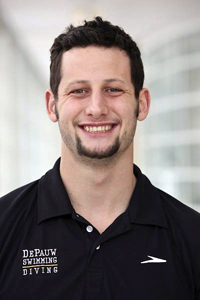 Alex Alfonso '15
This installation of Beta Bios includes junior Alex Alfonso. Alfonso is a Religious Studies and Conflict in Africa double major from New Albany, Ohio. He serves as Beta's Sergeant-at-Arms, and is a member of Risk Management. This collegiate swimmer is also the lead intern of the Interfaith Intern Program and the president of DePauw Hillel. "Beta has been the best social experience I could ask for at DePauw while stressing the importance of academics."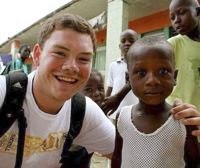 Matt Piggins '16
This Beta Bios features sophomore Matt Piggins. Piggins is an Economics major from Saugatuck, Michigan. He is a member of Beta's Philanthropy Committee, co-host of the radio show "DePauwlitics", and the president of the Rotaract Club. He will be spending this Spring semester studying abroad in Uganda. "My brothers are my best friends. While they push me to be a better person everyday, we also thoroughly enjoy each other's company and have a lot of fun."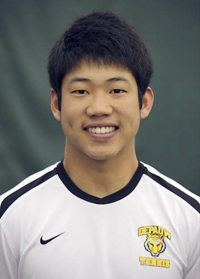 Kyle Coronel '14
The first edition of Beta Bios this semester highlights senior Kyle Coronel. This Louisville, Kentucky, native is a Computer Science major and Business Administration minor. Kyle is a management fellow, a member of the tennis team, and a Global Partner, helping international students get adjusted on campus. "Beta has a great year ahead of itself. I am excited to see our strong brotherhood and campus leadership expand."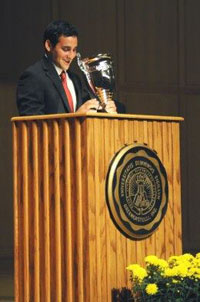 Mark Fadel '13
The fifth Beta Bios showcases senior Mark Fadel. Mark is the student body vice president and is originally from Mayfield, Ohio. Last night, Mark was awarded the Walker Cup, given to DePauw's most outstanding senior. "I am so thankful to call myself a Beta because of the talented men in our fraternity who have motivated me to cultivate my interests and accomplish my goals. The support I received from my Beta brothers in everything I pursued at DePauw was instrumental in being awarded the Walker Cup." (photo credit- The DePauw)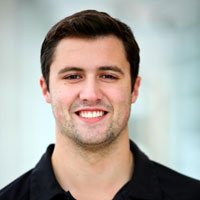 Joe Hessburg '14
The fourth Beta Bios highlights junior Joe Hessburg. Joe is a computer science major and was elected to serve as the president of our chapter for the fall semester of 2013. Joe is from Grosse Point, Michigan, and is a captain of the varsity swim team and First-Year Mentor. "I'm thrilled to take on this role. The Delta Chapter has been doing some big things lately, and I can't wait to see what comes next."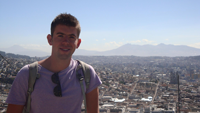 Dave Tykvart '13
The third edition of Beta Bios showcases senior Dave Tykvart. Dave is a Spanish and political science major and Russian studies minor from Wheaton, Illinois. Dave received a Fullbright grant and will be studying and teaching English in the Czech Republic next year. "Beta's are the best people I know. They've showed me the best time while pushing me to my greatest potential."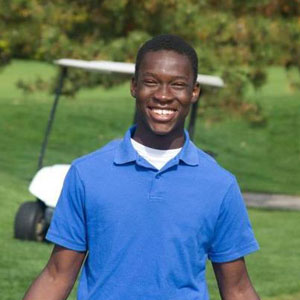 Samuel Doku '14
The second edition of Beta Bios highlights junior Samuel Doku. Samuel is an economics major from Accra, Ghana. He is a member of the College Mentors For Kids and is the reigning house Fifa 2013 champion. "Beta is literally my home away from home, my family in the states."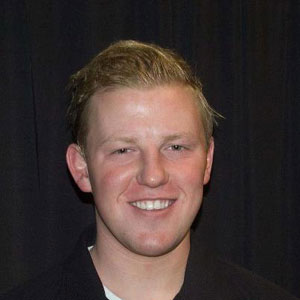 Mike Curtis '14
Today marks the first edition of Beta Bios, which introduces a member of the Delta Chapter every other week. This week features cake enthusiast/Chapter President Mike Curts '14. Mike is from Lebanon, Indiana, and is a member of the swimming and diving team, and Order of Omega. He also serves as the president of Circle K. Curtis says, "The Delta Chapter has been on the rise acedemically and philanthropically, not to mention our diverse interests and leadership roles we hold. I'sm excited to see where we can take this chapter next."